Författare:
Trepte Peter
Titel:
Public Procurement in the EU – A Practitioner's Guide
Upplaga:
2 uppl.
Utgivningsår:
2007
Omfång:
704 sid.
Förlag:
Oxford University Press
ISBN:
9780199286911
Produkttyp:
Inbunden
Ämnesord:
Marknadsrätt , EU-rätt

---
Pris: 1347 SEK exkl. moms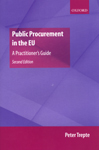 This is a commentary on the two new EC Directives on public procurement, which are due to be implemented and in force by January 2006, together with practical guidance upon their application and implementation in national law. The author offers a clear and precise explanation of the meaning and significance of the rules and identifies and discusses the problem areas in understandable terms. A new feature of the second edition is that it covers all procurement rules relating to the institutions of the EC itself, for example rules relating to procurement by the EC Commission or European Development Fund. The author is a recognized expert in this field, bringing to bear experience both in private practice and as an adviser to governments and public bodies to provide an essential reference guide for all who operate in this field.

The book is based on the provisions of the Directives themselves and, as such, sets out the minimum requirements that must be followed by each member state in the process of transposition. Whilst it considers the EU objectives of procurement regulation and the interpretations provided by the European Court, its primary purpose is to explain the effects of the EC rules in the context of real world procurement practices and procedures. The book takes into account the latest amendments brought about by the EC Directives of 2004, including: the consolidation of the Directives to introduce a more sequenced logic; the significant improvements and amendments brought about by both Directives: the introduction of new procedures; the introduction of electronic procurement (including specific provisions relating to dynamic purchasing systems and electronic auctions); the permissibility of the application of social and environmental policies and the applicable conditions as well as the amendments to the utilities sector Directive in respect of its scope (coverage of telecommunications removed and postal services added); the new general escape mechanisms for competitive markets and the significant changes to the affiliated undertakings. The book also covers the other EC procurement rules which apply to funded contracts and contracts benefiting third countries.

CONTENTS:
1. Introduction
2. Identifying the Contracting Parties
3. Contracting Parties in the Utilities Sector
4. Defining the Contracts
5. Specifying the Purchaser's Requirements
6. Selecting Economic Operators
7. Contract Award Procedures
8. Procedural Requirements
9. Implementation and Enforcement
10. Procurement under the "Practical Guide"