Författare:
Obradovic Daniela , Lavranos Nikos
Titel:
Interface Between EU Law and National Law
Utgivningsår:
2007
Omfång:
389 sid.
Förlag:
Europa Law Publishing
ISBN:
9789076871721
Produkttyp:
Inbunden
Typ av verk:
Samlingsverk
Ämnesord:
EU-rätt

---
Pris: 758 SEK exkl. moms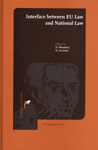 The book is aimed at examining the interface or interaction between European Union (EU) law and national law, in particular at assessing the delineation of competences between the EU and its member states regarding various policy areas. The book is intended not only to investigate the controversial aspects of the EU-national law relationship, but it should result into the presentation of recommendations for guiding the interface between EU and national rules in specific domains.

Consequently, its objective is the production of guidelines for governing not yet clearly defined interactive correlations between EU and national legal norms in particular fields. More specifically, the following questions will be dealt with:
• Are there some policy areas lacking any interaction between EU and national rules?
• What are the remaining or residual competences left to the member states/national law?
• If there are remaining powers for the member states, are they actually exercised and if so in accordance with which principles?

The contributions do not intend to take stock of the current doctrine and jurisprudence on those matters, but rather to use them as a starting point for an innovative analysis that will lead to new insights.