Pris: 650 SEK exkl. moms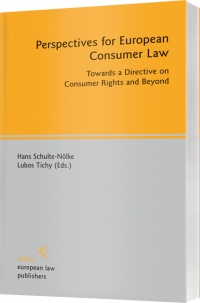 The forthcoming Directive on Consumer Rights is part of a far-reaching European development in the field of consumer law and general contract law. The European Commission has initiated the long expected broad shift to full harmonisation. This puts the national laws and all lawyers applying it under new challenges. In future, the Member States will be prohibited from deviations not only "downwards" but also "upwards". In particular the relation between (EC and national) consumer law and general contract law is under question.

The Czech EU Presidency in the first half of 2009 gave the occasion for a conference organised by the Charles University, the Acquis Group and the Czech European Consumer Center at Prague. Leading contract law scholars, policy makers and stakeholders from across Europe put the Proposal under close scrutiny from political, legal and practical angles. This volume contains the results of the conference and thus responds to the question of the extent to which the Proposal offers indeed perspectives for European consumer law. It also contains a position paper elaborated by the Acquis Group in the aftermath of the conference which highlights strengths and weaknesses and suggests improvements of the Proposal.