Pris: 311 SEK exkl. moms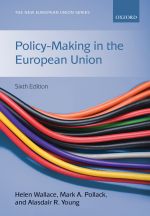 The policies of the European Union profoundly affect the lives of people in Europe and around the world. The new edition of this highly successful textbook outlines how and why such decisions are made, as well as the key challenges faced by policy-makers in the current political and economic climate.

Policy-Making in the European Union begins by clarifying the institutional framework of the EU and the analytical approaches used to understand it. A wide range of crucial and illustrative policies are then explored in detail by subject experts.

This volume includes new chapters on ways of analysing the EU's policy process and on energy policy. A central theme to the volume is how the recent expansion to twenty-seven member states has affected policy-making across the different policy sectors. The conclusion reflects on how this challenge and the protracted constitutional stalemate have affected policy-making in the EU. It also explores the impact of the financial and economic crises that have struck Europe over the past several years.

The sixth edition is fully up-to-date, and is the ideal text for all those with an interest in the policy-making of the European Union.

Readership : Suitable for undergraduate students in the second or third year of a Politics, International Relations or European Studies degree and postgraduate students.