Pris: 368 SEK exkl. moms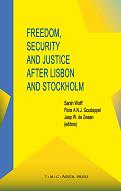 This book introduces the main changes induced by the Lisbon Treaty and the Stockholm Programme in the field of Justice and Home Affairs (JHA). The Lisbon Treaty has brought important changes to decision making at EU level, while the Stockholm Programme has set policy objectives for the next five years.
The contributions to this book assess briefly the acquis so far and elaborate on the future challenges that remain, in order to turn the area of freedom, security and justice into a reality, both for citizens and practitioners. Written by experts with different backgrounds – academics, policy makers and practitioners – they make this book a very useful tool for a broad audience, including EU officials, judges, lawyers, academics, students and police officers.