Pris: 1557 SEK exkl. moms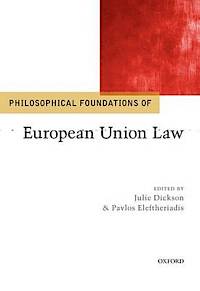 The supranational law of the European Union represents a uniquely powerful, far-reaching, and controversial instance of the growth of international legal governance, one that has forever altered the political and legal landscape of its Member States. The EU has attracted significant attention from political scientists, economists, and lawyers who have analysed its polity and constructed theoretical models of the integration process. Yet it has been almost entirely neglected by analytic philosophers, and the philosophical tools that have been developed to analyse and evaluate the Union are still in their infancy.

This book brings together legal philosophers, political philosophers, and EU legal academics in the service of developing the philosophical analysis of EU law. In a series of original and complementary essays they bring their varied disciplinary expertise and theoretical perspectives to bear on central issues facing the Union and its law. Combining both abstract thought in legal and political philosophy and more tangible theoretical work on specific legal issues, the essays in this volume make a significant contribution to developing work on the philosophical foundations of EU law, and will engender further debate between philosophers, political philosophers, and EU legal academics. They will be of interest to all those engaged in understanding the nature and purpose of this unique legal entity.