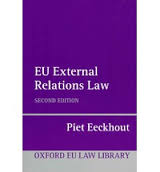 The law of the external relations of the European Union is a subject of great importance. The EU institutions have developed an extensive practice in this area, by concluding many international agreements, by participating in the work of international organizations, and by legislating and regulating on matters of external relations. It is a practice giving rise to many legal problems and questions, as evidenced by the substantial and fast expanding body of case-law in this area from the EU Courts. These problems and questions are often of constitutional significance, and the external relations law of the EU therefore occupies an important place in the overall constitutional and institutional development of the EU.

This volume examines the legal foundations of the EU's external relations. It focuses on the EU's external competences and objectives; on the instruments, principles, and actors of external policies; and on the legal effects of international agreements and international law. It analyses a number of key external policies, particularly in the fields of trade and foreign policy.

Substantially updated to take into account recent case law, it also incorporates an examination of the changes made by the Lisbon Treaty. This new edition, formerly published as External Relations of the European Union: Legal and Constitutional Foundations, is an invaluable asset to those studying and working in the field.