Författare:
Hood Parker
Titel:
Principles of Lender Liability
Utgivningsår:
2012
Omfång:
678 sid.
Förlag:
Oxford University Press
ISBN:
9780198299035
Produkttyp:
Inbunden
Ämnesord:
Krediträtt , Skadeståndsrätt

---
Pris: 2001 SEK exkl. moms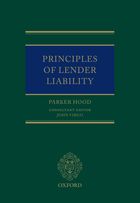 Provides a comprehensive analysis of advisory liability under common law and regulatory requirements, such as those under the FSA, from an English law perspective with references to Scottish and Commonwealth law

Full coverage of key situations in which banks could incur liability, ranging from confidentiality and advice on transactions, to fraud and wrongful trading

Combines practical guidance on important issues, such as advisory liability of lenders, confidentiality, withdrawal of finance in breach of contract, with a detailed analysis of the underlying principles

This comprehensive book begins with a consideration of the nature of the general banker-customer relationship, the obligations it poses and the issues relating to the commencement of the banking relationship. It provides individuals and companies with valuable guidance when assessing the risks in their relationship with banks, and vice versa.
The following chapters allow all parties to consider carefully the central issues and underlying general principles that might arise by addressing the various activities undertaken by a lender. The duty of confidentiality, lenders as fiduciaries, the lender's duty to advise borrowers on the imprudence of transactions as well as fraud, and banks as constructive trustees and damages for breach of contract by a lender are all considered.
The final chapters explore the duties of security holders and mortgagees of land, the liability of lenders for receivers they appoint, environmental liability and lender liability as shadow directors concerning wrongful trading.
The book outlines liability in negligence and contract, with specific reference to existing case law concerning banks in this field from an English law perspective, and also Scottish and Commonwealth law, thus providing valuable applicability to the banking context for practitioners in other fields.