Contract III
– General Provisions, Delivery of Goods, Package Travel, Payment Services, Consumer Credit and Commercial Agency Contracts
Pris: 1677 SEK exkl. moms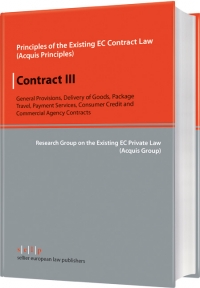 The Acquis Group aims to reformulate the present patchwork of directives, regulations and judgments on EU private law as a coherent restatement, the Acquis Principles (ACQP). This allows the reader to readily identify commonalities and contradictions in the Acquis.

The Acquis Principles include:
- general rules and definitions formulated on the basis of existing EU law,
- an accompanying commentary, which outlines their foundation in the Acquis, and
- a glossary of core legal terms.

Being the third in this series, "Contract III" presents - besides a revision of the ACQP parts published in volumes 1 and 2 - numerous new rules, in particular on payment services, consumer credit and commercial agency contracts. The work is particularly aimed at enriching the current controversial debate on the way forward for a common European sales law. It is therefore absolutely indispensable for academics and civil law practitioners working in a European context.