Författare:
Fabio Massimo
Titel:
Customs Law of the European Union
Upplaga:
4 uppl.
Utgivningsår:
2012
Omfång:
768 sid.
Förlag:
Kluwer
ISBN:
9789041138996
Typ av verk:
Kommentar
Ämnesord:
Skatterätt , EU-rätt

---
Pris: 2490 SEK exkl. moms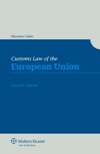 Customs Law of the European Union is a highly practical work dealing with the ins-and-outs of EU customs law. Authored by an international tax lawyer with extensive experience enforcing EU customs law as a former member of Italy's financial police, this handy resource is designed to help the reader stay in compliance with the laws controlling EU importing and exporting while structuring transactions in a business-friendly manner.

Content:
About the Author
Foreword
Chapter 1 European Community Law and the Customs System
Chapter 2 Classification
Chapter 3 The Origin of Goods
Chapter 4 Customs Value
Chapter 5 The Jural Relationships in Customs Law
Chapter 6 The Customs Declaration
Chapter 7 Customs Representatives
Chapter 8 Import Practice
Chapter 9 Permanent Export
Chapter 10 From the 2001 Reform to the Modernized Customs Code
Chapter 11 Transport and the TIR Regime
Chapter 12 Customs Warehousing
Chapter 13 Inward Processing Relief
Chapter 14 Outward Processing Relief
Chapter 15 Processing under Customs Control
Chapter 16 Temporary Admission
Chapter 17 Free Trade Zones
Chapter 18 Free Trade Warehousing
Chapter 19 Movement of Excise Goods
Chapter 20 Simplified Customs Procedures
Chapter 21 Electronic Data Exchange
Chapter 22 Incoterms
Chapter 23 Controls in the Context of Protection of the Financial Interests of the European Union
Chapter 24 Special Provisions
Chapter 25 The Authorized Economic Operator – AEO. Appendix A.
Appendix B.
Appendix. C.
Index.