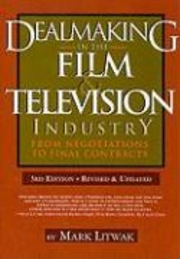 Dealmaking -- the popular, award-winning "self-defence" book for everyone working in the film and television industry -- is now updated to include the latest legal rulings and entertainment technology developments. Addressing a general, non-attorney readership, it is a fascinating, highly accessible guide to current entertainment law's peculiarities, "creative" practices, and practical applications.

Armed with this book, filmmakers can save themselves thousands of pounds in legal fees as they navigate the shark-infested waters of the entertainment business.

Whether you are a producer, writer, director, or actor, Mark Litwak will help you make the most of your business dealings while steering you clear of the many contractual traps that may await you.