Pris: 975 SEK exkl. moms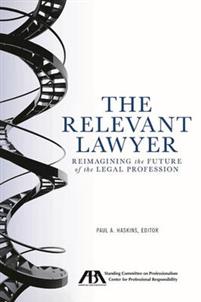 This groundbreaking new book collects the insights of more than 20 top authorities on the forces that are shaping a far different future for the legal profession in this nation and across the world.

For lawyers, law firms, and bar and court leaders, The Relevant Lawyer is a clarion call to adapt to disruptive change sweeping the law practice landscape or be left behind. Beyond considering what the profession of law must do to remain strong, viable, and in position to define its own destiny, this book makes the case that for the legal profession to endure, lawyer professionalism must endure as well.

The lawyer's commitment to public service and access to justice will be paramount in an era when many citizens are legally underserved. And preserving professional identity will be more essential than ever if new lawyers are to exercise independent judgment while dedicating themselves to the rule of law and the cause of justice, in keeping with the profession's core values. From the Foreword: [The Relevant Lawyer] gathers in one volume the many and distinct voices, perspectives, and trends the legal profession must consider in order to envision its future in a coherent way. Only an unfiltered vision that confronts, rather than avoids, the profound change ahead can enable our profession to continue to define its own destiny in the face of structural upheaval while standing firmly for principles of justice. * William C. Hubbard, President, American Bar AssociationThis book offers an extraordinary set of reflections on the legal profession and where it is heading, both in the United States and globally.

With trenchant insights by leading authorities on how legal services are likely to be delivered in the years ahead, and why lawyers face a deeply transformed practice environment, this volume is a must read for everyone interested in the legal profession's future." * Andrew Perlman, Vice Chair, ABA Commission on the Future of Legal Services The Relevant Lawyer: Reimagining the Future of the Legal Profession is an ABA book developed by the Standing Committee on Professionalism, ABA Center for Professional Responsibility.

Chapter topics, all with a future focus, include:
- The legal services revolution
- lawyers' response to change
- alternative legal service providers
- the age of legal consumer self-navigation; "indie" lawyering
- women lawyers
- diversity and inclusion
- virtual law practice
- large law firms
- the soldier-lawyer
- the shift to institutional law practice
- globalization and regulation
- lawyer regulatory change in the United Kingdom, Australia, and Canada
- legal education (learning what lawyers need)
mentoring - no app for that
- social media
- professionalism as survival strategy
- and bar associations.