Författare:
Hofmann Herwig C.H. , Ziller Jacques
Titel:
Accountability in the EU – The Role of the European Ombudsman
Utgivningsår:
2017
Omfång:
285 sid.
Förlag:
Edward Elgar
ISBN:
9781785367304
Ämnesord:
EU-rätt

---
Pris: 1100 SEK exkl. moms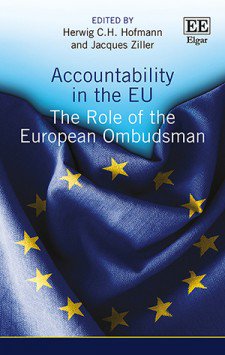 In the first interdisciplinary work focused on the European Ombudsman, expert observers of EU institutional affairs provide a thorough evaluation of the Ombudsman and its constitutional role, powers, activities and future potential. The book addresses the Ombudsman's impact on accountability in the EU's executive branch and offers new suggestions for the further development of the practice of 'ombuds review'.

The contributions to the discussion within this book come from law, political science, administrative science and economics. Looking at comparative developments in EU law and policy they critically review, from a variety of perspectives and methodologies, the Ombudsman's role in the review of activity of EU institutions, bodies, offices and agencies. They then evaluate this role, and its achievements, against the original objectives for creating an Ombudsman some 20 years ago.

This timely book will appeal to scholars and advanced students of the EU political and legal system. It is a also must-read for policy advisors and practitioners looking to enhance their understanding of alternative modes of dispute settlement and anyone interested in the future of administration in the EU.