Författare:
Bacon Kelyn
Titel:
European Union Law of State Aid
Upplaga:
3 uppl.
Utgivningsår:
2017
Omfång:
704 sid.
Förlag:
Oxford University Press
ISBN:
9780198787365
Produkttyp:
Inbunden
Ämnesord:
EU-rätt , Marknadsrätt

---
Pris: 2682 SEK exkl. moms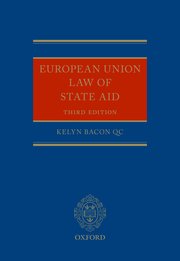 - The only fully comprehensive and practical analysis of the legal aspects of State aid in the EU
- Includes extensive coverage of the various forms of sectoral aid
- Written in a concise style by recognized experts in the field, this work is accessible to competition lawyers as well as non-specialists
- The only work to consider the relationship between the EU State aid rules and the State aid rules contained in international agreements involving the EU Member States

New to this Edition:

- Detailed coverage of the new and expanded General Block Exemption Regulation (GBER).
- Discussion of SME and risk capital aid updated to cover the revised Risk Finance Guidelines and the relevant provisions of the GBER.
- Coverage of air transport expanded to consider the new Aviation Guidelines, plus an additional section on social aid for transport for residents of remote regions.
- Updated to consider the Environmental and Energy Aid Guidelines (EEAG) covering state aid to energy infrastructure projects, generation adequacy measures, and energy intensive users.
- Coverage of the new rules on state aid for research, development and innovation (R&D&I) giving Member States greater flexibility to grant state aid without prior notification and approval.
- A new chapter on disaster aid.