Författare:
Furmston M. P.
Titel:
Cheshire, Fifoot and Furmstons Law of Contract
Upplaga:
17 uppl.
Utgivningsår:
2017
Omfång:
831 sid.
Förlag:
Oxford University Press
ISBN:
9780198747383
Ämnesord:
Förmögenhetsrätt , Utländsk rätt

---
Pris: 501 SEK exkl. moms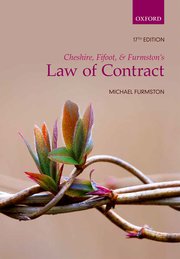 - Cheshire, Fifoot & Furmston's Law of Contract stands as one of the classic textbooks on contract law more than 70 years after the publication of the first edition.
- Michael Furmston combines an authoritative account of the principles of the law of contract with thought-provoking analysis and insights, and the clarity of the narrative brings understanding of complex contractual issues to a wider readership.
- Each topic is clearly signposted for ease of navigation, and the text contains numerous references to additional primary and secondary sources to take the reader even further into the subject.
- The text is invaluable to students reading courses in contract, the law of obligations, and common law and is often used as a first point of reference for practitioners.

New to this Edition:

- Fully updated with two major statutes in the Consumer Rights Act 2015 and the Insurance Act 2015.
- Includes some 20 decisions of the Supreme Court in Braganza v BP Shipping; Lloyds TSB v Lloyds Bank; Arnold v Britton; Marks and Spencer v BHP; Cramaso v Ogilvie Grant; Hayward v Zurich; Plevin v Paragon; Patel v Mirza; Hounga v Allen; Les Laboratoires Servier v Apotex; Dunhill v Burgin; FHR European v Cedar; NYK Bulkship v Cargill; Kelly v Fraser; Geys v Societe Generale; Bunge v Nidera; Cavendish Square v Talal El Makdessi.