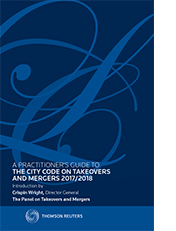 A Practitioner's Guide to the City Code on Takeovers and Mergers in the only annual title to provide practical commentary and guidance on the work of the City of London's takeover watchdog.

Each edition is fully revised and updated to take into account any changes in the Code and their implications. This year's edition covers all of the latest consultations and responses including changes made to the Code relating to the communication and distribution of information relating to an offer.

All developments are covered in detail in this comprehensive guide. Each chapter is authored by a leading expert to ensure that you are provided with the best commentary and advice.

This book remains essential reading for anyone involved with mergers and acquisitions activity.