Pris: 3769 SEK exkl. moms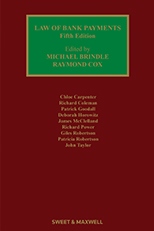 Law of Bank Payments presents a practical guide to the legal problems that arise from the making of payments by and through banks. Expert authors provide the reader with a thorough account of the complexities unique to the whole range of payment systems, from cheques to electronic funds transfer.

Now in its 5th edition, Law of Bank Payments serves as a valuable authority for solicitors and barristers seeking to advise their clients on the constantly evolving mechanics and legal implications of the payment transactions.