Titel:
Dicey, Morris & Collins on the Conflict of Laws – 5th Cumulative Supplement
Upplaga:
15 uppl.
Utgivningsår:
2017
Omfång:
580 sid.
Förlag:
Sweet & Maxwell
ISBN:
9780414070042
Ämnesord:
Internationell privat- och processrätt

---
Pris: 2194 SEK exkl. moms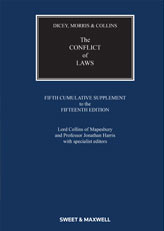 Dicey, Morris & Collins on the Conflict of Laws is renowned worldwide as the foremost authority on private international law. It explains the rules, principles and practice that determine how the law of England & Wales relates to other legal systems. Its commentary and illustrations, with detailed reference to case law, ensures it remains an in-depth but accessible research tool for practitioners engaged in trans-national work, whether litigious or not.

The 5th Supplement to the 15th Edition brings the main work up-to-date and deals with all the developments since the publication of the main work.


Important developments considered in the 5th Supplement include:

- An updated Preface entitled "Brexit and the Conflict of Laws" explaining the implications of Brexit for cross-border litigation
- Detailed commentary on the recast Insolvency Regulation
- All the many new European Court, Commercial Court and appellate cases on jurisdiction and enforcement of foreign judgments
- Authorities on the enforcement of arbitration agreements
- Authorities on the enforcement of foreign penal laws, state immunity and act of state
- Important new decisions on the Hague Convention on International Child Abduction 1980 and on habitual residence
- New decisions on the interpretation of the rules on choice of law for contractual and non-contractual obligations and property.