Författare:
Terra Ben J. M. , Kajus Julie
Titel:
A Guide to the European VAT Directives 2019
Anmärkning:
2 volymer.
Utgivningsår:
2019
Omfång:
1840 sid.
Förlag:
IBFD
ISBN:
9789087225162
Typ av verk:
Kommentar
Ämnesord:
Skatterätt

---
Pris: 4699 SEK exkl. moms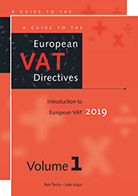 Published annually, this handy two-volume set provides a comprehensive overview of the most essential parts of VAT Directives in Europe.

This book set serves as a textbook for advanced students of tax law and/or Community law and as a reference book for (indirect) tax law or Community law practitioners.

Volume 1: Introduction to European VAT
This volume offers a systematic survey of the implications of the legal principles on indirect tax matters and VAT rules of the European Union in force and a discussion of the case law of the Court of Justice of the European Union in indirect tax matters, particularly in VAT.

It is divided into two parts: (I) General subjects and (II) European VAT. Following a general introduction on VAT as fiscal phenomenon, European VAT is discussed as provided for in the Sixth VAT Directive as replaced by Council Directive 2006/112/EC on the common system of VAT (the Recast VAT Directive, referred to as the VAT Directive). VAT issues are illustrated by excerpts from decisions of the Court of Justice.

The changes from the VAT package are included, and all chapters and references are updated with the changes from the Lisbon Treaty.

Volume 2: Integrated Texts of the VAT Directives and the former Sixth VAT Directive
This volume provides an (unofficial) integrated text of Directive 77/388/EEC of 17 May 1977 (the Sixth Directive as amended by subsequent directives, treaties of accession and regulations), as applicable until 1 January 2007.

The articles of Council Regulation (EC) No. 1777/2005 of 17 October 2005, laying down implementing measures, are indicated under the articles of the Sixth Directive to which they relate.

The latest directive integrated into the text is Directive 2006/98/EC of 20 December 2006. This integrated text is unofficial in nature, since headings and footnotes have been added and, where relevant, the text of other directives inserted.

On 28 November 2006, Directive 2006/112/EC on the common system of value added tax (the Recast of the First and Sixth VAT Directives) was adopted, entering into force on 1 January 2007.

In order to improve the drafting quality, the text of the Sixth Directive has undergone numerous changes. Although the changes do not affect its substantive content, they do alter the format with the 53 articles of the Sixth Directive divided into 414 new articles, of which article 411 repeals the Sixth Directive as set out in this integrated text.