Författare:
Rosati Eleonora
Titel:
Copyright and the Court of Justice of the European Union
Utgivningsår:
2019
Omfång:
273 sid.
Förlag:
Oxford University Press
ISBN:
9780198837176
Produkttyp:
Inbunden
Ämnesord:
Immaterialrätt , EU-rätt

---
Pris: 980 SEK exkl. moms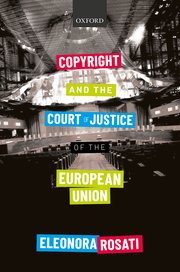 This title focuses specifically on the role, action, and legacy of the Court of Justice of the European Union (CJEU) in the field of copyright, also by providing an exclusive survey that covers two decades (1998 - 2018) of CJEU decisions in this area of the law.

The main objective of this work is providing readers with a sense of direction of EU copyright case law. In order to achieve this, an attempt of 'tidying up' and rationalizing existing rulings is carried out.

The book consists of three parts.

The first part explores the role of the CJEU in copyright cases. Besides outlining the history of EU copyright harmonization and providing statistical data concerning the Court's activity, it extracts the key standards employed in copyright case law, explains their meaning and significance, and carries out a novel statistical analysis aimed at mapping relations between the various standards.

Following a discussion of the impact of CJEU interpretation of certain EU copyright provisions (notably their preemptive force on individual EU Member States' freedom), the second part is concerned with CJEU action (and vision) in respect of three key areas of copyright: the construction of economic rights; exceptions and limitations; and enforcement.

The final part focuses on CJEU legacy broadly intended. It tackles two distinct perspectives, these being the effect on national copyright laws and the current policy discourse around EU copyright reform. As regards the former, the book discusses the default consequences of the departure of a certain Member State from the EU. In relation to the latter, attention is focused on a number of selected areas, which require to be considered in light, not just of existing legislation, but also - and perhaps most importantly - existing case law.