Pris: 564 SEK exkl. moms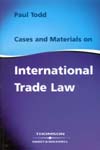 Ur innehållet:
Part I: The contract of sale: Rights and duties of the parties; Risk, and related issues; Property; The documents; Remedies for breach; Miscellaneous issues.
Part II: Finance: Methods of financing international sales; Documentary credits and the sale of contract; The documents.
Part III: Carriage: Substance of carriage contracts; The bill of lading and the contract of carriage; Third parties and carriage contracts; Representations in bills of lading.
Part IV: The future: Problems and proposed solutions.