Pris: 188 SEK exkl. moms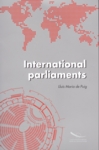 Despite the curiosity it arouses in political circles, international parliamentarism has never yet been dealt with by academic researchers, probably because it is such a new field. In this in-depth appraisal, the parliamentarian and historian, Lluis Maria de Puig, has taken the opportunity to explore from the inside the era of globalisation and the institutional frameworks to which it has given rise. His goal is to shed light on how the geostrategic context is changing as well as outlining potential future developments.

In the author's view the key question about these new parliamentary structures is what their future function will be in a political process which is no longer restricted to the national sphere but now takes place on a global scale.