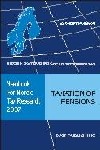 The main subject of this yearbook is the taxation of pensions. A number of distinguished authors share their reflections in this important field.

The general reports to the 2006 Nordic Tax Research Council Seminar, as well as the national reports, are included. The yearbook also contains a written version of one of the interesting lectures that were given at the seminar.

In addition, the yearbook holds summaries of dissertations published in 2006 as well as short presentations of new tax legislation in the Nordic countries.