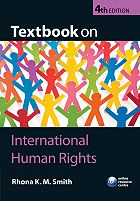 - Written specifically for the newcomer to international human rights law, the concise and clear approach of the book enables the student with no prior background in the subject to develop a good understanding
- Serves as an effective starting point for further research by providing a wealth of references to further reading, key cases and web links at the end of each chapter, helping students to delve deeper into topics of particular interest
- Complemented by an Online Resource Centre that provides case updates, extended referencing and links to relevant websites

New to this edition

- Covers the latest developments in the subject, including the introduction of the UN Conventions on Forced Disappearences and Disability
- Features 'key cases' boxes, which highlight and discuss the crucial cases that students of international human rights law must develop a good understanding of

Global in coverage, the fourth edition of Textbook on International Human Rights provides a concise introduction for newcomers to the subject. Beginning with a brief analysis of the development of international human rights and the history of the subject, the text gives full consideration to the work of the UN before turning in more detail to regional systems of human rights. The second half of the book looks at a variety of substantive rights, with illustrations from both regional and international law.

The strength of the book lies in its clarity and broad scope, with the focus on making the subject easily accessible to those with little or no prior knowledge. The author guides students through the complexities of each topic before providing a wealth of useful references at the end of each chapter. The fourth edition incorporates all the latest developments in the subject.

Textbook on International Human Rights continues to be relied upon by students worldwide as the first book to turn to for clear and accurate coverage.

Readership: Undergraduates studying optional modules on international human rights as part of their law degree, in the UK, Europe or elsewhere.