Pris: 442 SEK exkl. moms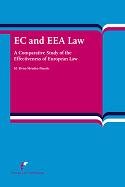 The effectiveness of European Community law is probably the most distinguishing feature of this unique legal order in contrast with classic international law. By contrast, the effectiveness of European Economic Area law (EEA Law), the way this other even more sui generis legal system provides comparable rights for EFTA-EEA citizens, is a silent revolution brought by the EFTA Court that has not been properly researched and exposed in the field of European law.
This book addresses first the relationship between Community law and national systems following the doctrine of the effet utile or effectiveness as established by the European Court of Justice (ECJ).
The main contribution of the book is to describe how the EFTA Court has managed, in its fifteen years of existence, to assure the same effectiveness of EEA law in this parallel legal order.
The book summarizes and explain the basic principles governing the relationship between EEA law and the national legal systems while searching for similarities and differences with EC law. These questions are explored from a European perspective in order to help students, scholars, practitioners and other professionals understand the effectiveness of European law, the special relationship between the Community/EEA legal orders with the national legal systems when the enforcement of European rights and the judicial protection of individuals are at stake.