Titel:
COE European prison rules
Utgivningsår:
2006
Omfång:
132 sid.
Förlag:
Council of Europe Publishing
ISBN:
9789287159823
Ämnesord:
Internationell rätt , Straffrätt

---
Pris: 144 SEK exkl. moms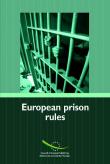 This book deals with the prison rules that are in effect in Europe and examines in particular all aspects of imprisonment and prisons such as the use of force, the selection of prison staff and the protection of prisoners' human rights. The book is based on Council of Europe's Recommendation Rec (2006)2 on the European Prison Rules which was adopted in January 2006. The recommendation continues the work started by the European Convention on Human Rights and the European Committee for the Prevention of Torture and Inhuman or Degrading Treatment or Punishment.

The first part of the book contains the text of the recommendation and is followed by a commentary which explains in detail the points and rules of the recommendation. The final section provides an overview of the recent developments in European Prison Rules and is a contextual report which analyses the effectiveness of these rules and the effectiveness of imprisonment as a form of punishment. This section puts into context what prisons in Europe should aim to achieve.

This work will be of interest to human rights scholars and students of law, criminology and international relations.