Pris: 2379 SEK exkl. moms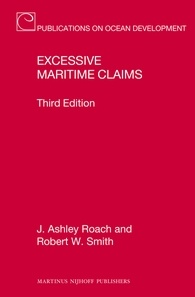 Now in a third, revised edition, Excessive Maritime Claims by J. Ashley Roach and Robert W. Smith is designed for law of the sea and maritime law specialists. The book draws on published governmental material in the public domain, specifically the U.S., and addresses recent progress in maritime security, proliferation of weapons of mass destruction by sea, piracy, and protection of underwater cultural heritage.

As a result of significant developments in the law of the sea, primarily with reference to the 1982 Law of the Sea Convention, Excessive Maritime Claims provides up to date coverage of … read morecurrent affairs as well as introduce new topics such as: submarine cables, polar areas, environmental protection, sovereign immunity and sunken ships, and maritime law enforcement.