Titel:
Incoterms 2010 Q&A – Questions and expert ICC guidance on the Incoterms® 2010 rules
Utgivningsår:
2013
Omfång:
332 sid.
Förlag:
ICC
ISBN:
9789284201839
Typ av verk:
Samlingsverk
Serie:
ICC nr. 744
Ämnesord:
Förmögenhetsrätt , Internationell rätt

---
Pris: 731 SEK exkl. moms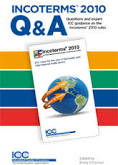 This is the latest in a series of best-selling books helping users understand and benefit from ICC's world famous Incoterms® rules.

This practical one-stop shop for traders and those that advise them, features a host of practical tools to help readers choose the correct Incoterms® 2010 rule for their deal and avoid costly mistakes arising from dangerous mismatches between the contract of sale and related documents such as 'Letters of credit' and 'Contracts of carriage'.

Bringing together expert guidance and practical tools, this publication includes the following helpful materials and tools:

• Frequently asked general questions on the Incoterms® 2010 rules
• Guidance notes for each of the 11 Incoterms® 2010 rules
• A comprehensive glossary for commonly used trade terms
• Flowcharts and checklists to help readers manage the relevant documents related to a sale or purchase.

The successful application of all these guidelines will help the reader better understand the Incoterms® rules in order to implement them in the most efficient way in their contracts.