Pris: 1198 SEK exkl. moms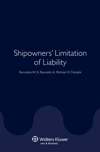 In the course of this book's practical explanation and discussion of shipowners' rights to limit their liability, the authors consider how the conflict of laws rules of various jurisdictions might be used by parties in international commerce to raise the most advantageous defence or select the most suitable tribunal to commence a limitation action. For each potentially applicable limitation regime, the book identifies the amount to which liability is limited and the tests that apply when a claimant wishes to challenge a shipowner's right to limit liability.

Among the issues brought to the fore are the following:

right to the lowest limit versus the strongest protection of the right to limit;
circumstances under which the ship against which the action is brought may be arrested and sold;
when the shipowner's right to limit can be challenged and denied;
action in rem for collisions;
freezing injunctions; and ;
direct action against an insurer.
The book also discusses various specific liability regimes that address damage suffered by passengers, damage to cargo interests, oil pollution damage from tankers, damage from bunker oil from non tankers, and damage caused by hazardous and noxious cargoes.

Content:
About the Authors .
Foreword by the Rt. Hon. Lord Justice Gross. Preface and Acknowledgement.
List of Abbreviations .
List of Figures .
List of Tables.
Table of Cases.
Table of Legislation.
Table of EU Materials.
Table of Conventions.

Part I Introduction.
Chapter 1 How Limitation Issues Arise.

Part II The Right to Limit Liability under the Global Limitation Regimes.
Chapter 2 Tonnage and Value Based Limitation Systems.
Chapter 3 Who May Invoke Global Limitation?
Chapter 4 For Which Types of Vessel Is Limitation Available?
Chapter 5 The Claims to Which Limitation May Apply.
Chapter 6 When Is the Right to Limited Liability Lost?
Chapter 7 The Limits of Liability.
Chapter 8 Multiple Funds, Multiplicity of Defendants and Counterclaims.
Chapter 9 Constitution of the Fund and Priority of Claims.
Chapter 10 The Admiralty Jurisdiction of the English High Court and English Limitation Procedure.
Chapter 11 Jurisdiction for Global Limitation of Liability Proceedings.

Part III Specific Liability Regimes Involving Limitation of Liability.
Chapter 12 Passenger Liability.
Chapter 13 Cargo Claims and the Hague-Visby Rules. Chapter 14 Limitation of Liability for Oil Pollution.
Chapter 15 Bunker and Lubricating Oils.
Chapter 16 Liability for Oil Pollution Not Covered by International Conventions.
Chapter 17 Hazardous and Noxious Substances.

Appendix I Ratification Status of the 1924 Limitation Convention.
Appendix II Ratification Status of the 1957 Limitation Convention and its 1979 Protocol.
Appendix III Ratification Status of the 1976 and 1996 LLMCs. Appendix IV 1924 Limitation Convention.
Appendix V 1957 Limitation Convention.
Appendix VI 1976 LLMC.
Appendix VII 1996 LLMC.
Bibliography.
Websites.
Index.