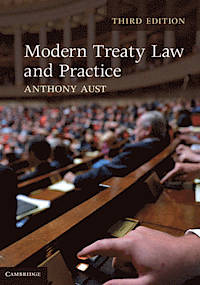 This new edition of a textbook first published in 2000 provides a comprehensive account of the law of treaties from the viewpoint of an experienced practitioner. As such, it is the first, and only, book of its kind. Aust provides a wealth of examples of the problems experienced with treaties on a daily basis, not just when they are the subject of a court case. He explores numerous precedents from treaties and other related documents, such as memorandums of understanding (MOUs), in detail.

Using clear, accessible language, the author covers the full extent of treaty law, drawing examples from both treaties and MOUs. Modern Treaty Law and Practice is essential reading for teachers and students of law, political science, international relations and diplomacy, who have an interest in treaties.

Contents:
Introduction
1. Vienna Convention on the Law of Treaties 1969
2. What is a treaty?
3. MOUs
4. Capacity to conclude treaties
5. Full powers
6. Adoption and authentication
7. Consent to be bound
8. Reservations
9. Entry into force
10. Treaties and domestic
11. Territorial application
12. Successive
13. Interpretation
14. Third States
15. Amendment
16. Duration and termination
17. Invalidity
18. The depositary
19. Registration and publication
20. Dispute settlement and remedies
21. Succession to treaties
22. International organisations
23. Drafting and final clauses
Appendices.