Pris: 2460 SEK exkl. moms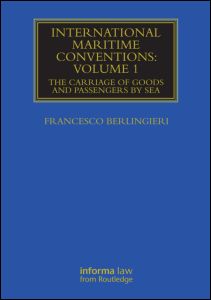 For the first time, this unique text brings together all private international maritime law conventions alongside expert commentary and analysis. Truly global in approach, the book covers each of the nineteen conventions currently in force, all scrutinised by this internationally acclaimed author. It also examines important maritime conventions not yet in force, including the topical Rotterdam Rules.

Split into three convenient volumes, this comprehensive resource provides a thorough treatment of both wet and dry shipping treaties, combining breadth of coverage with depth of analysis. In this first volume, the author covers conventions dealing with the Carriage of Goods and Passengers by Sea, in particular:

- International Convention for the Unification of Certain Rules of Law Relating to Bills of Lading, 1924 and its Protocol of 1968 and 1979 (Hague-Visby Rules)

- United Nations Convention on the Carriage of Goods by Sea, 1978 (Hamburg Rules)

- United Nations Convention on the International Carriage of Goods wholly or Partly by Sea, 2008 (Rotterdam Rules)

- Athens Convention Relating to the Carriage of Passengers and their Luggage by Sea, 1974 as amended by its Protocol of 2002 (Athens Convention)

This book is an indispensable reference for maritime lawyers, academics and students of maritime law worldwide.