Pris: 1242 SEK exkl. moms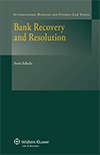 This important new book focuses on the European legal framework under the Bank Recovery and Resolution Directive (BRRD).

The author provides you with a clear and easily understandable explanation of the key provisions, procedures and triggers at work in bank recovery, and examines the cross-border issues that the new rules under the BRRD have been created to help.

He organizes a highly complex legal system into patterns and action plans that you can apply in virtually any case where bank business is of central significance.

You'll find comprehensive coverage of:

-entities covered by the BRRD
-exceptions under the BRRD
-objective and scope of BRRD tools – bail-in, bridge bank, sale of business, asset separation
-value of asset quality reviews
-curing or mitigating the continuing problem of non-performing loan
-new rules as response to lack of private solutions
-banks' requirement to provide minimum amount of eligible liabilities
-safety buffers to protect resolution
-need to be 'resolvable' in a worst case
-leverage and liquidity ratios
-forced mergers
-market spillover effects of recovery planning
-group recovery planning
-effects of foreign law contracts and assets
-write-down of capital instruments ;
-special problems of cross-border restructuring.

The author compares the European framework with US and other national developments, and includes a full-scale analysis of Switzerland's regulatory response to the crisis.

Challenges lie in the fact that a full seamless global system of bank recovery and resolution has not yet been found, and that major banks are global players headquartered in different jurisdictions and even different continents. The author takes this into consideration, providing guidance for the cases that involve international banking under the prevailing status quo.

How this book will help you:

-Includes a thorough commentary and analysis on the EU Bank Resolution and Recovery Directive (BRRD)
-Explains the current need for recovery and resolution measures in the banking sector worldwide
-Gives you a clear and systematic description and analysis of new EU rules governing bank recovery and resolution
-Fulfils the urgent need for a clear and systematic description and analysis of BRRD rules
-Helps practitioners who need to deal with cases involving international banking under the prevailing status quo
-Will help policymakers and academics who are working toward a global regulation of bank business

This work is essential reading for officials and academics in international banking and finance law and policy, who are working toward a global solution.