Pris: 1976 SEK exkl. moms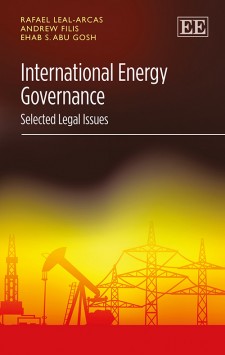 In a world that is hungry for energy security, the legal components at the junction of interstate energy cooperation have become increasingly important. International law as it stands today is not equipped to handle international energy governance issues fully, negatively affecting our aim to meet energy security.

Selected legal deficiencies relating to international energy governance are identified in this salient book. The currently fragmented and multi-layered international energy governance regime is exposed and reviewed. If governance were streamlined for legal cohesiveness and international political and economic cooperation, it would promote energy security. The book offers a broad perspective on interstate energy cooperation in areas such as energy transit, energy market liberalization and energy investment. A more specific approach is presented in areas of cooperation such as trade and energy; trade, environment and energy; and energy exploration and maritime delimitation disputes. Finally, International Energy Governance considers energy as a special sector within the World Trade Organization and presents an analysis of European Union energy governance and renewable energy systems.

This book would primarily be of interest to students, scholars, lawyers, policymakers, and think tanks dealing with the legal aspects of energy, as well as those communities relating to other energy-related disciplines.