Författare:
Determann Lothar
Titel:
Determanns Field Guide to Data Privacy Law – International Corporate Compliance
Utgivningsår:
2015
Omfång:
214 sid.
Förlag:
Edward Elgar
ISBN:
9781783476886
Produkttyp:
Inbunden
Ämnesord:
IT-rätt , Internationell rätt

---
Pris: 1140 SEK exkl. moms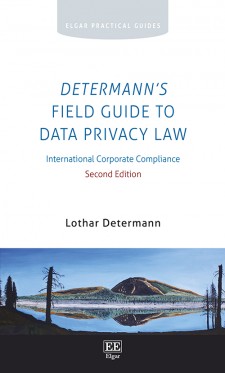 Companies, lawyers, privacy officers, developers, marketing and IT professionals face privacy issues more and more frequently. Much information is freely available but it can be difficult to get a grasp on a problem quickly, without getting lost in details and advocacy. This is where Determann's Field Guide to Data Privacy Law comes into its own – helping to identify issues and provide concise practical guidance in an increasingly complex field shaped by rapid change in international laws, technology and society.

Now in a second, updated and revised edition, with new material covering issues such as big data, data brokers and spying, Determann's Field Guide focuses on the compliance issues that are likely to be encountered by the majority of companies. Starting with an overview of the key concepts in the field, in order to provide a basic understanding of data privacy, the book offers practical advice on initiating, maintaining and then auditing a compliance program, with checklists designed to assist this process. The book also gives step-by-step guidance on drafting documentation for data privacy compliance, including notices, consent forms, agreements, protocols, request forms and government notifications, and provides sample documentation to use as a model.

A handy A–Z of data privacy compliance completes the book and gives a concise tour of privacy-related issues, from Advertising to Zip Codes. Lightweight enough to carry around, the book should be on the desk and in the briefcase of every compliance officer and corporate counsel.

New to this Edition:

• Coverage of new topics such as big data, data brokers, spying and binding corporate rules for processors.
• Commentary on legislative changes including: EU data protection regulation, APEC data protection law harmonization, COPPA, HIPAA, ROSCA, EU cookies regulations and laws prohibiting compelled social media password disclosure.
• Smaller, handier format.

Key Features:

• Concise overview of the practical requirements of data privacy compliance.
• Step-by-step guide to starting and maintaining a compliance programme.
• Advice on drafting documentation gives the user the tools to complete an end-to-end process.
• Glossaries of key acronyms and terms help the user to navigate through the field.
• Includes sample documentation and checklists to ensure the clearest possible guidance.
• Clear structure facilitates quick reference.
• A–Z of data privacy provides snapshot of key topics.