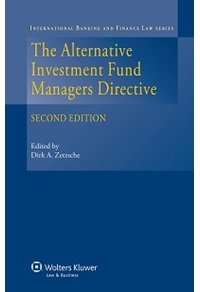 Apart from MiFID, the Alternative Investment Fund Managers Directive (AIFMD) may be the most important European asset management regulation of the early twenty-first century.

In this in-depth analytical and critical discussion of the content and system of the directive, thirty-eight contributing authors – academics, lawyers, consultants, fund supervisors, and fund industry experts – examine the AIFMD from every angle. They cover structure, regulatory history, scope, appointment and authorization of the manager, the requirements for depositaries and prime brokers, rules on delegation, reporting requirements, transitional provisions, and the objectives stipulated in the recitals and other official documents. The challenging implications and contexts they examine include the following: ;

-connection with systemic risk and the financial crisis;
-nexus with insurance for negligent conduct;
-connection with corporate governance doctrine;
-risk management;
-transparency;
-the cross-border dimension;
-liability for lost assets;
-impact on alternative investment strategies, and
-the nexus with the European Regulation on Long-Term Investment Funds (ELTIFR).

Nine country reports, representing most of Europe's financial centres and fund markets add a national perspective to the discussion of the European regulation. These chapters deal with the potential interactions among the AIFMD and the relevant laws and regulations of Austria, France, Germany, Italy, Luxembourg, Liechtenstein, The Netherlands, Malta and the United Kingdom.

The second edition of the book continues to deliver not only the much-needed discussion of the inconsistencies and difficulties when applying the directive, but also provides guidance and potential solutions to the problems it raises. The second edition considers all new developments in the field of alternative investment funds, their managers, depositaries, and prime brokers, including, but not limited to, statements by the European Securities and Markets Authority (ESMA) and national competent authorities on the interpretation of the AIFMD, as well as new European regulation, in particular the PRIIPS Regulation, the ELTIF Regulation, the Regulation on European Venture Capital Funds (EuVeCaR), the Regulation on European Social Entrepreneurship Funds (EUSEFR), MiFID II, and UCITS V.

The book will be warmly welcomed by investors and their counsel, fund managers, depositaries, asset managers, administrators, as well as regulators and academics in the field.