Pris: 1226 SEK exkl. moms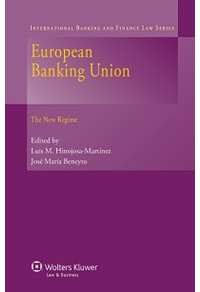 From a perspective both constructive and critical, this book provides a legal, economic, and political analysis of the European legislation enacted so far to implement the Banking Union. The twenty-one distinguished contributors include lawyers and economists, scholars and practitioners, European civil servants, think tank specialists, and private operators. Among the topics and issues elucidated are the following:

-capital requirements for credit institutions;
-EU legislation on financial crime;
-the new system of banking supervision – the Single Supervisory Mechanism;
-the strengthened role of the European Banking Authority;
-the Single Resolution Mechanism;
-the European Stability Mechanism's Direct Recapitalization Instrument;
-the new regulation of deposit guarantee schemes;
-the Maximum Harmonization Principle;
-the new rules for credit rating agencies;
-the position of Non-Euro Member States;
-the role of national authorities;
-specific rules for structured finance instruments;
-shadow banking as an unpredictable source of systemic risk; and
-the future economic and political implications of the Banking Union process.

The new and ongoing effects of all relevant EU legislation and international soft law are brought into consideration throughout. This ambitious and important book responds to crucial questions regarding what the Banking Union has achieved so far, what risks and challenges lie ahead, and which problems cannot be solved by the Banking Union in its current form. For these reasons it is sure to assist policymakers, practitioners, and academics to proceed confidently in matters involving finance in the Eurozone under the new regime.