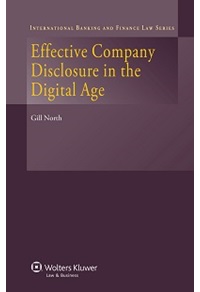 Effective corporate reporting and disclosure are critical in financial markets to promote vigorous competition, optimal performance, and transparency. This book examines whether existing disclosure frameworks in eight countries with the world's most significant securities exchanges achieve these objectives, and then, drawing on extensive empirical findings, identifies the policies and practices that contribute most to improving the overall quality of listed company reporting and communication.

Contending that public disclosure of listed company information is an essential precondition to the long-term efficient operation of financial markets, the book provides analysis of such issues and topics as the following:

-arguments for and against mandatory disclosure regimes;
-key principles of periodic and continuous disclosure regulation;
-tensions between direct and indirect investment in financial markets;
-assumptions concerning the need to maintain a privileged role for financial intermediaries;
-intermediary, analyst, and research incentives;
-protection of individual investors;
-selective disclosure;
-disclosure of bad news;
-the role of accounting standards;
-public access to company briefings;
-long term performance reporting and analysis; and
-company reporting developments.

A significant portion of the book provides an overview of disclosure regulation and practice in the United States, Canada, Germany, the United Kingdom, Japan, Hong Kong, Australia, and Singapore. A highly informative survey looks at company reports, disclosures, and websites of large listed companies, including Microsoft, Citigroup, Teck Resources, Deutsche Bank, BP, Sony, PetroChina Company, BHP Billiton, and Singapore Telecommunications. The book discusses common disclosure issues that arise across jurisdictions, provides valuable insights on the efficacy of existing disclosure regulation and practice, and highlights the important principles, processes, and practices that underpin best practice company disclosure frameworks. It will be welcomed by company boards and executives and their counsel, as well as by policymakers and scholars in the areas of corporate, securities, banking and financial law, accounting, economics and finance.