Pris: 3854 SEK exkl. moms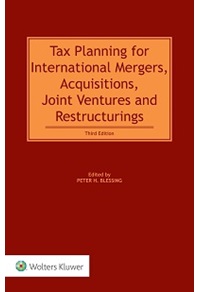 This user-friendly resource consisting of two volumes provides a practical overview of certain key tax aspects of international transactions that have general application, followed by twenty-one detailed country profiles, pinpointing each jurisdiction's handling of such areas of concern as:

-entity classification,
-taxable transactions,
-tax-free transactions (both domestically and cross-border),
-loss planning,
-IP planning,
-compensation arrangements,
-acquisition financing,
-JV planning,
-VAT issues,
-tax treaty usage, and
-much more.

The experts in each country suggest solutions designed to maximize effective tax planning and satisfy compliance obligations.

The work will assist you in planning and evaluating strategies for transactions in single and multiple jurisdictions, as well as in implementing them. It further will allow an easy comparison of key tax aspects in major jurisdictions.

Addressing an important information gap in an area of widespread commercial concern, this resource will be welcomed by international tax counsel, corporate and financial services attorneys, and corporate planning and compliance professionals.

Contributing authors: Marti Adroer, Soo-Jeong Ahn, Javier Asensio, Daniel Bader, Xavier Berre, Peter H. Blessing, Jose Carlos Silva, Agnès Charpenet, David Caupers, Stephan Eilers, Shefali Goradia, Gabriel Gotlib, Daniel Gustafsson, Richard Hendriks, Werner Heyvaert, Soraya M. Jamal, John Jangwoon Kwak, Josh Jones, Sophie Jouniaux, Janne Juusela, Michael Khayat, Kirsten Kjellander, Robert Kopstein, Daniel Lehmann, Sanna Lindqvist, Margriet E. Lukkien, Ricardo Luiz Becker, Victor Matchekhin, Michael McGowan, Patrick Mears, Riccardo Michelutti, Takeo Mizutani, Stephen Nelson, Janette Pantry, Peter Reinarz, Eric N. Roose, Mónica Sada Garibay, Martin Schiessl, Michael H. Shikuma, Ansgar A. Simon, Jin Soo Soh, James Smith, Raoul Stocker, Andrew Stuart, Peng Tao, Peter Utterström, Adalberto Valadez, Maarten J.M. van der Weijden, Richard Vann, Chris Van Loan, Fernando M. Vaquero, Flávio Veitzman, Sonia Velasco and Sabrina Wong.

This product is also part of the Kluwer Tax Library. Click here for more information.