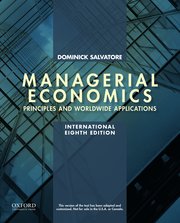 Managerial Economics in a Global Economy synthesizes economic theory, decision sciences, and business administration to help instructors train students on how managerial deccisions are actually made in the modern, globalized world. Theory is explained clearly and the applications are numerous, real, and relevant. A global perspective permeates the presentation- examples, data and theory- to help illustrate how local economic decision making is now inescapably global.

- Presents the theory of the firm as the unifying theme to examine the managerial decision-making process.
- Examines managerial decision making in the global context.
- Includes coverage of spreadsheets such as Microsoft Excel, one of the most powerful tools in managerial decision making
- Includes a robust instructor ancillary package, particularly for those teaching an on-line or hybrid lecture/on-line course.