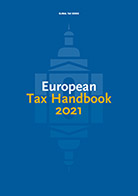 Covering 49 jurisdictions, the European Tax Handbook is the single most authoritative and complete survey of tax systems in Europe.

The 2021 European Tax Handbook includes surveys on 49 countries and jurisdictions. The surveys have been updated to reflect the laws applicable in 2021.

A chapter on the European Union (together with the most important tax directives) and descriptions of seven of the most important Swiss cantons are included.

Albania, Armenia, Austria, Azerbaijan, Belarus, Belgium, Bulgaria, Croatia, Cyprus, Czech Republic, Denmark, Estonia, European Union, Finland, France, Georgia, Germany, Gibraltar, Greece, Guernsey, Hungary, Iceland, Ireland, Isle of Man, Italy, Jersey, Latvia, Liechtenstein, Lithuania, Luxembourg, Macedonia, Malta, Moldova, Monaco, Montenegro, Netherlands, Norway, Poland, Portugal, Romania, Russia, Serbia, Slovak Republic, Slovenia, Spain, Sweden, Switzerland (and selected cantons), Turkey, Ukraine, United Kingdom.