Pris: 749 SEK exkl. moms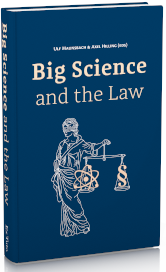 The European Spallation Source (ESS) is a state-of-the-art neutron scattering facility, built on the outskirts of Lund in Southern Sweden, and expected to be taken into scientific operation in 2023. It is funded, run, and built by a consortium of thirteen (to date) European governments who jointly provide for its funding and establish its overarching governance principles, and it is co-hosted by Sweden and Denmark, with the main facility in Lund and a data-center in Copenhagen.

The ESS has been subject to some studies in the history and sociology of science and similar facilities in other countries is also a popular topic for studies of the politics, funding and organization of science today Previously unexplored, however, are the many interesting legal aspects of Big Science in its contemporary form. This book, written by a number of legal scholars at Lund University and associates in the private sector, makes the first scholarly attempt to fill this gap, using the fact that the ESS is located in Lund and Copenhagen and is under construction, which makes the preconditions formidable for studies of Big Science and the law.

This book includes a variety of legal areas focused on potential problems that are related to Big Science: labour law, intellectual property law, law of associations, environmental law and tax law.