Pris: 375 SEK exkl. moms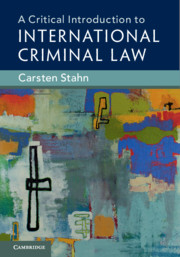 International criminal law has witnessed a rapid rise after the end of the Cold War. The United Nations refers to the birth of a new 'age of accountability', but certain historical objections, such as selectivity or victor's justice, have never fully gone away, and many of the justice dimensions of international criminal law remain unexplored. Various critiques have emerged in socio-legal scholarship or globalization discourse, revealing that there is a stark discrepancy between reality and expectation. Linking discussion of legal theories, case-law and practice to scholarship and opinion, A Critical Introduction to International Criminal Law explores these critiques through five main themes at the heart of contemporary dilemmas: • The shifting contours of criminality and international crimes • The tension between individual and collective responsibility • The challenges of domestic, international, hybrid and regional justice institutions • The foundations of justice procedures • Approaches towards punishment and reparation Suitable for students, academics and professionals from multiple fields wishing to understand contemporary theories, practices and critiques of international criminal law.

- Takes a problem-oriented approach, treating subjects through core challenges, which invites engagement with real-life challenges and big picture issues

- Covers philosophical and scholarly perspectives on core themes of ICL, making it relevant to graduate, post-graduate and PhD students, as well as teachers, scholars and practitioners

- The book is related to a free learning environment, the MOOC on Investigating and Prosecuting International Crimes, offering an additional learning guidance with exercises

Table of Contents

Preface

List of abbreviations

Introduction

1. International crimes

2. Individual and collective responsibility

3. The global institutional architecture

4. International criminal justice procedures

5. Remedying wrong

6. Beyond the status quo: re-thinking international criminal law

Index.