Judicial Independence
– A Legal Research on Its Theoretical Aspects, Practices from Germany, the United States of America, France, Vietnam, and Recommendations for Vietnam
Pris: 472 SEK exkl. moms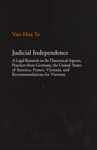 It is widely recognized that judicial independence is an indispensable value of a modern democracy. When a country wishes to adopt this value, questions may arise, such as what it is and how to develop it properly?

This thesis explores the issue of judicial independence in two aspects: theoretical and practical. For the theoretical aspect, it first examines the rule of law and protection of human rights as the requirements for judicial independence in a country. Other theoretical questions of judicial independence are also discussed, such as its definition, limitations, and main guaranteeing measures. To support theoretical arguments in the thesis, an examination of international and regional measures regarding judicial independence is presented. In addition, full texts of important international documents on judicial independence are reproduced in one of the Appendixes.

For the practical aspect, the thesis investigates the situation of judicial independence in four countries: Germany, the United States of America, France and Vietnam. The main question of this investigation is: How does judicial independence work in those countries? Detailed introduction to those countries? court systems is provided.

Theoretical arguments and analyses on the practical conditions of judicial independence in Vietnam are the bases for the solutions recommended at the end of the thesis to improve the independence of Vietnamese courts and judges. Practices of judicial independence in the other three countries are also consulted for suitable experiences.