Pris: 1610 SEK exkl. moms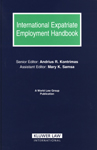 The writers of each chapter answer important questions on a wide range of employment issues. Among the many relevant matters covered in the same order in each chapter, for easy cross-reference are the following:

types of employment visas and related qualification requirements;
expenses and time frame for obtaining visas;
income taxation of foreign nationals;
employer s tax withholding requirements;
filing and reporting requirements;
eligibility for employee or retirement benefits;
continuation of home country benefits;
wealth, capital, estate or death taxes;
taxable presence of foreign corporate employers;
vicarious liability for acts of employees;
privacy laws relating to employees;
employment termination provisions under local law;
enforceability of non-competition and non-solicitation agreements; and
protection of confidential or trade secret information.