Pris: 2103 SEK exkl. moms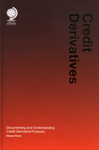 This book examines the full spectrum of credit derivative transactions. This accessible new title explains, in straightforward terms, each type of credit derivative transaction, together with the documentation involved. In particular, the book analyses and guides the reader through the full suite of funded and unfunded credit derivatives documentation, and provides a detailed guide to the 2003 ISDA Credit Derivatives Definitions.

Featuring analysis on the 'new generation' of credit derivative products, the book also covers in the funded products arena, listing credit linked notes in the post-Prospectus Directive regime, issues relating to special purpose vehicles and the rating process.

In addition, the title covers many historical and structural aspects of the credit derivatives market, as well as providing practical guidance on how to manage a major credit event affecting a diverse range of products in a credit derivatives portfolio.