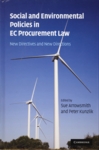 In developing public procurement policy, governments are often concerned not only with value for money but also with promoting their social and environmental objectives. However, imposing social and environmental requirements makes it harder for some suppliers to participate in public procurement. EC law thus limits the ability of national governments to implement such policies. But how should the balance be struck between these trade concerns and the desire of national governments to use procurement as a policy tool? And should the EC even harness Member States' procurement power to EC-wide objectives, such as green energy policy?

Despite the new provisions included in the EC's new (2004) procurement directives, important issues remain unresolved. This volume focusses on new issues in the field, notably the innovative provisions in the new directives, new academic thinking and areas neglected in the debate, such as the impact of EC law on the CSR policies of private utilities.

- Extensive introductory chapters, by leading specialists in the field, allow readers to understand the key principles and rules that govern this complex area
- Provides detailed analysis of 'grey areas' of the law, allowing readers to assess the legal risks of pursuing different horizontal policies through procurement
- Offers new thinking on important areas of EC procurement policy, enabling readers to keep up with the latest thinking in a controversial field.