Författare:
Spronken Taru
Titel:
EU Procedural Rights in Criminal Proceedings
Utgivningsår:
2009
Omfång:
116 sid.
Förlag:
Maklu
ISBN:
9789046603178
Ämnesord:
Straffrätt , EU-rätt

---
Pris: 510 SEK exkl. moms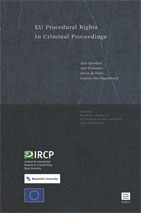 Procedural rights in criminal proceedings have received an increasing amount of attention in the European Union (EU) over the last couple of years and are the central topic of this book.

All EU Member States are party to the European Convention on Human Rights (ECHR), which is the principal treaty setting out the basic standards for suspects' procedural rights in criminal proceedings in the EU. However, divergent practices in different Member States have hitherto hindered mutual trust and confidence, principles put forward by the 1999 Tampere Conclusions, between them. In order to counter this obstacle, the European Commission, in its 2003 Green Paper on "Procedural Safeguards for Suspects and Defendants in Criminal Proceedings throughout the EU", held that the EU is justified in taking action in this field. Member States had also expressed the need and wish for cooperation in the matter on a EU level. However, the ideas in the 2004 Commission "Proposal for a Council Framework Decision on certain procedural rights in criminal proceedings throughout the European Union" have not yet sparked any political agreement on the matter.

In 2005, the Commission arranged for a study to be carried out on procedural rights in the EU, in order to comply with the The Hague Programme's call for studies on the existing levels of safeguards in the Member states.

This book contains the results of an EU-wide research project (JLS/2008/D3/002) the authors have conducted as a follow-up report to the 2005 study, providing up to date information on the level of procedural rights in the Member States as a lead for possible new Commission legal initiative on the matter and as a boost for the "Roadmap on Procedural Rights" presented by the 2009 Swedish EU Presidency.

The main procedural rights studied – the right to information, the right to legal advice, the right to legal assistance (partially) free of charge and the right to interpretation and translation – seem to be guaranteed by law more or less in accordance with the ECHR in the criminal justice systems of the EU. However a more in depth look at the implementation of these rights raises doubts as to whether in all Member States everyday practice is in line with the Strasbourg standard. This underlines the need for EU action, probably even beyond this presumed acquis.

Particularly striking is the fact that fundamental rights such as the right to remain silent, to have access to the file and to call and/or examine witnesses or experts, even if deemed basic requirements for a fair trial, are not provided for in legislation in all EU Member States.