Titel:
EC State Aid Law � Liber Amicorum in Honour Francisco Santaolalla
Utgivningsår:
2008
Omfång:
467 sid.
Förlag:
Kluwer
ISBN:
9789041127747
Produkttyp:
Inbunden
Typ av verk:
Samlingsverk
Ämnesord:
Festskrifter , Marknadsrätt , EU-rätt

---
Pris: 1615 SEK exkl. moms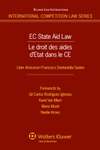 A uniquely important contribution to the debate on EC State aid, this book captures the direct knowledge and experience of twenty-six current and former Commission State aid litigators, offering detailed 'insider' analysis of EC State aid court cases, as well as related internal legal issues, between 1994 and 2008. The book brings together both legal and economic analysis, with detailed reflections on aspects of both substantive legal rules and procedural law. It also offers, over and above the specific interest of the contributions it contains, invaluable insights into the working methods of the Commission Legal Service.

This collaborative work was conceived and realized by its authors as a mark of recognition, and a gesture of respect and friendship, for Francisco Santaolalla, on the occasion of his retirement from the Commission after fourteen years' service as Director of the State aid team.

Among the many legal and economic forces affecting State aid litigation, the authors focus on such factors as the following: ;

exports;
private investment;
role of economic analysis;
ecotaxes;
privatization;
remedies;
existing aid;
third parties;
actions against State aid decisions;
national court decisions;
fiscal discipline; and
WTO subsidies law.

In illuminating the underlying issues, and describing how they are handled by the Commission Legal Service, the authors shed light on the likely future development of State aid law. The book will be of particular interest to antitrust practitioners as well as academics.