Pris: 355 SEK exkl. moms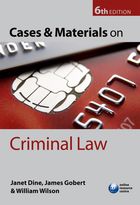 Approachable selection of case extracts to elucidate the core principles that govern criminal law

Interlinking commentary from subject experts guides you through the intricacies to make your own assesment of the themes and complexities that exist within criminal law

Clear 4 part structure provides a structured approach to working through the different elements of criminal law

Notes and questions throughout the chapters help you to focus on the key points and relevance of the extracts, as well as highlighting any areas of ambiguity


New to this edition

Two new chapters covering Fraud and European Criminal Law
Developed coverage of deception offences, with case extracts taken from a broader range of offences
Full appreciation of all the latest developments in criminal law

New accompanying Online Resource Centre featuring updates to the law and pointers to answering questions from the text help to support your learning

The compilation of extracts from cases, academic articles, and statutes are carefully selected and abridged by subject experts, to make this a thorough resource for all criminal law students. The authors carefully provide context for the extracts, providing brief introductions to the topic areas and case extracts so that you have the full context within which the law is created and decided.

Developed to map closely to criminal law course content this is the perfect companion to your course. All key topic areas are clearly structured guiding you through the law in an approachable and engaging manner. Key extracts from case reports are provided to allow you to understand the judge's logic behind decisions and to develop your skills in reading from actual case reports.