Pris: 460 SEK exkl. moms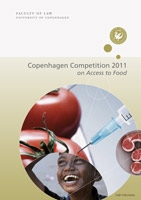 This book contains the written submissions for the Copenhagen Competition 2011 on Access to Food organized and hosted by the Faculty of Law, University of Copenhagen.

The focus of this year s Copenhagen Competition is the limited access to food worldwide and the consequences of this. Christina Schröder whom prior to retirement was employed by the WTO has developed the written assignment - to inspire governments around the world and show hypothetical solutions to a greater control of food shortage.

The Copenhagen Competition is an international negotiation competition for law students, and the written submissions will therefore give the reader insight primarily into the legal analysis of the topic Access to Food. The submissions are of a very high quality and count teams from the worlds top universities. It is therefore also the aspiration of the Copenhagen Competition that the written submissions will be used to inspire governments around the world.